We have been developing, producing, and delivering card products for our customers for over 30 years – from very small jobs to print
runs in the millions.
SINC NOVATION is your expert for smart card systems for identification, customer loyalty, and payment transactions. As a full-service provider for everything to do with cards, we support customers worldwide from our main locations in Falkenstein/Vogtland, Nettetal (both Germany), and Belgrade (Serbia).
From tamper-proof bank cards through to personalised gift cards and employee ID cards – SINC NOVATION offers innovative, customised card solutions for every occasion and need.
Smart cards
Whether memory-only cards or processor cards, we develop and produce your smart cards to the highest standards of security, including comprehensive data protection. SINC NOVATION produces smart cards that are customised to your specific requirements. We manufacture around the clock using state-of-the-art technology and leveraging our extensive technological expertise.
Chip cards
As an innovation-driven, technologically advanced card provider, we produce your chip cards as memory-only or processor chip cards, individually printed and personalised in keeping with your preferences and needs.
Gift cards
Building customer loyalty requires a sound concept, above all. Gift cards are an efficient marketing tool to attract new customers and retain existing ones in the long term. Whether made from classic plastic or from sustainable materials such as wood, we design and print your personalised gift cards according to your preferences.
Magnetic strip cards
Cards with magnetic strips are the most commonly used memory cards. They can be used universally to automate the identification of authorised persons. Magnetic strip cards are a lower-cost alternative to chip cards and can be combined with other data carriers.
Bank and payment cards
From personalised debit and credit cards to high-quality mailings and PIN letters with tamper-proof labelling: we support you in providing high-security, tamper-proof cards for the financial services sector. As we are VISA and Mastercard-certified, you can trust us to deliver secure card solutions and products.
Loyalty cards
We develop the right voucher and promotional cards for your individual loyalty programme. We produce and finish all cards in your individual layout and design, printed with your promotional codes. We will be happy to integrate loyalty cards into products such as customised advent calendars, gift packaging or fan boxes – take a look at our Loyalty Solutions [link] for the right solution to support your customers' loyalty.
RFID cards
We produce and personalise your RFID cards for contactless use. Our RFID cards are suitable for handling highly sensitive data and guarantee maximum reliability.
Scratch cards
Do you need a plastic scratch card? We'll be happy to serve you. Contact us as your competent partner for producing customised scratch cards with printed campaign codes or PINs in your favourite designs.
Industries
Cards are used in a wide variety of applications. Our card solutions support customers ranging from health insurance funds to financial institutions, retail chains, transport companies and system houses all over the world.
Banking / Payment / Government
We produce your tamper-proof credit, debit and prepaid products at our Mastercard and VISA-certified SINC NOVATION Group locations.
More
From personalised cards to high-quality mailings and PIN letters with tamper-proof labelling – by partnering with SINC NOVATION, you are on the safe side.
We meet all technical and security-relevant requirements essential for manufacturing and processing products for the health sector.
More
We are certified by gematik to produce and personalise the electronic eGK2 health card. We manufacture and personalise health cards for numerous clients, mail the cards and associated PIN letters out to insured customers, and produce ID cards for medical staff in several health districts.
We specialise in solutions for public transport and produce personalised e-tickets for a large number of transport companies in Germany.
More
We are an experienced supplier who supports your ticketing project all the way through, from production to delivery to subscribers by direct mail or for local distribution at service points.
Our Group experts for the core application offer you a perfected platform for this. All important interfaces of the respective background systems are implemented in our solutions.
We are your one-stop shop for your perfect customer or gift cards.
More
We support you all the way through, from providing target group-oriented, strategic consultation on your personalised customer programme to producing, coding and printing cards in the design of your choice and dispatching your gift and loyalty cards in a timely manner.
Benefit from our reliable identification and RFID access card systems and solutions to improve the security of your buildings and ensure effective visitor management.
More
We produce high-quality staff and company ID cards, library and student ID cards as well as identification solutions for numerous national sports associations, trade fairs and events for worldwide use.
Our IT experts will be happy to support you in implementing your smart card project by providing bespoke software solutions. We create customised responses for you and develop solutions that dock on to your existing management software or ERP system.
Depending on the intended use and required security features, you have a choice between basic plastic cards, magnetic strip and chip cards or cards with contactless RFID technology.
We offer a range of digital, offset and screen printing processes for manufacturing your card product. Enhance and customise your cards with special materials, finishes and tactile surface effects. Our experienced team will be happy to advise you on the design and layout of your card.
We offer various types of personalisation to meet your individual requirements for your smart card, gift card or loyalty card.
We use thermal transfer printing, among others, for printing barcodes and lettering, and thermal sublimation printing for images. We apply serial numbers using tamper-proof laser engraving.
Our full-colour DoD inkjet process is particularly efficient in printing large volumes of cards with high-quality text and images.
Our equipment is capable of applying both optical and electronic personalisation to your cards, depending on your security requirements. We produce magnetic strip and chip cards, whether contact-based or using contactless NFC technology, as well as dual interface cards.
Whether mailing your customer cards to users, your company ID cards to employees or cover letters with supplementary inserts to customers – we ensure that your personalised mailings or customer benefits are sent out securely and in time.
If your products require banding, our state-of-the-art banding machines will take care of this as part of the packaging process. We use our high-performance laser printers for single-sheet and continuous formats to create mailings. Cards for mailings are directly integrated with our dispensing machines.
Our online processes ensure that personalised cards are reliably matched with your corresponding cover letters.
The mailing volume does not play a decisive role in this process – we are very flexible in terms of meeting our customers' requirements. We finish mailings by placing up to six inserts into envelopes in various formats, and we take care of IT franking for you. We work with efficient logistics partners for national and international dispatch.
Logistics / Warehouse Management / Fulfillment
Logistics / Warehouse Management / Fulfilment
In warehousing, distribution and fulfilment, we implement holistic solutions for our customers to ensure the optimal, precise and timely execution of their card projects.
Sustainable materials
Dealing responsibly with our environment is particularly important to us. As an alternative to plastic cards, we offer environmentally friendly recycled materials as well as highly sustainable products made of biodegradable yet durable materials such as bio-PVC.
Recycled PVC Cards
Recycled PVC cards are an environmentally friendly, sustainable alternative to conventional plastic cards.
More
They are made of up to 100% recycled plastic and can be fully recycled again. Recycled PVC cards can be personalised with DoD and thermal transfer printing processes and combined with any finishing techniques.
All common printing and finishing techniques
Can be personalised just like PVC cards
Available with RFID chips, contact chips or barcodes
Can be recycled again
Environmentally and resource-friendly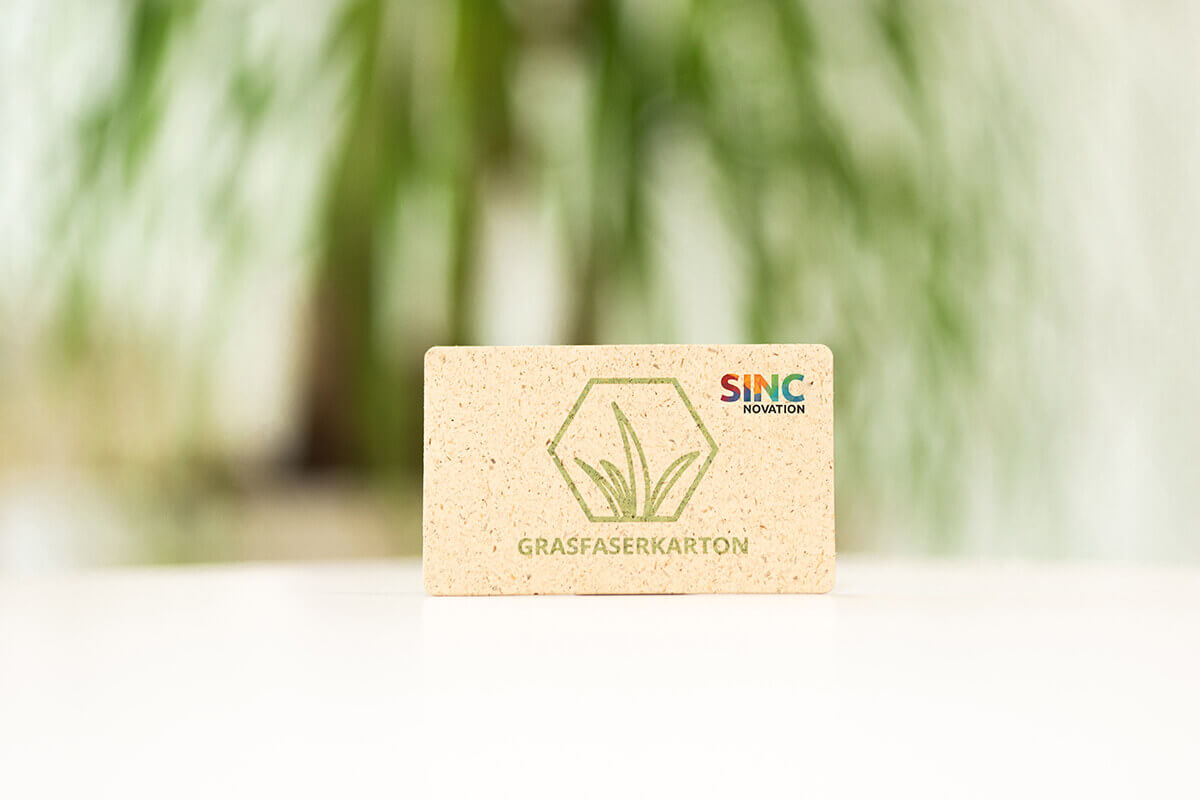 Grass cards
Grass cards are real eye-catchers thanks to their unique texture, and they clearly demonstrate your company's sensitivity to environmental issues.
More
Grass cards consist of 50% grass or hay and are biodegradable and compostable. Compared to paper and cardboard, which consume significantly more energy, water and wood in production, grass cards are an innovative, environmentally friendly alternative made from a fast-growing material.
All common printing and finishing techniques
Can be personalised
100% recyclable
Biodegradable and compostable
Less CO2 emissions in production
Significantly lower consumption of energy and water
Wooden cards
Cards made of wood are a sustainable solution with unique visual and textural appeal.
More
Our high-quality wooden cards are made of birch wood. They are fully customisable in terms of printing and finishing and can feature RFID chips or barcodes if required.
Can be printed in offset, screen or digital print
Can be personalised
Available with RFID chips, contact chips or barcodes
Recyclable
Biodegradable and compostable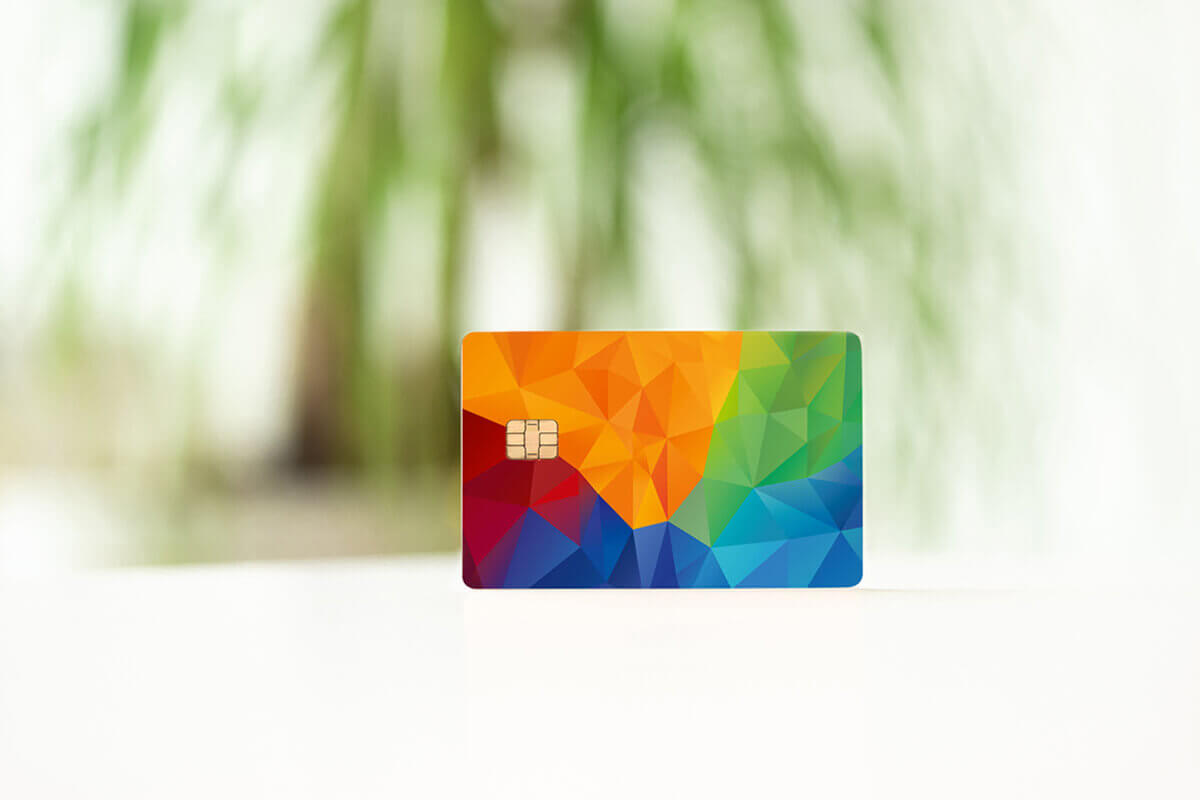 Plastic
Plastic cards – we use them every day. They connect us to our bank accounts and health funds, identify us as loyal customers, grant us access or confirm our identity.
More
SINC NOVATION develops and produces any type of plastic card for your individual card project, including a broad range of feature options.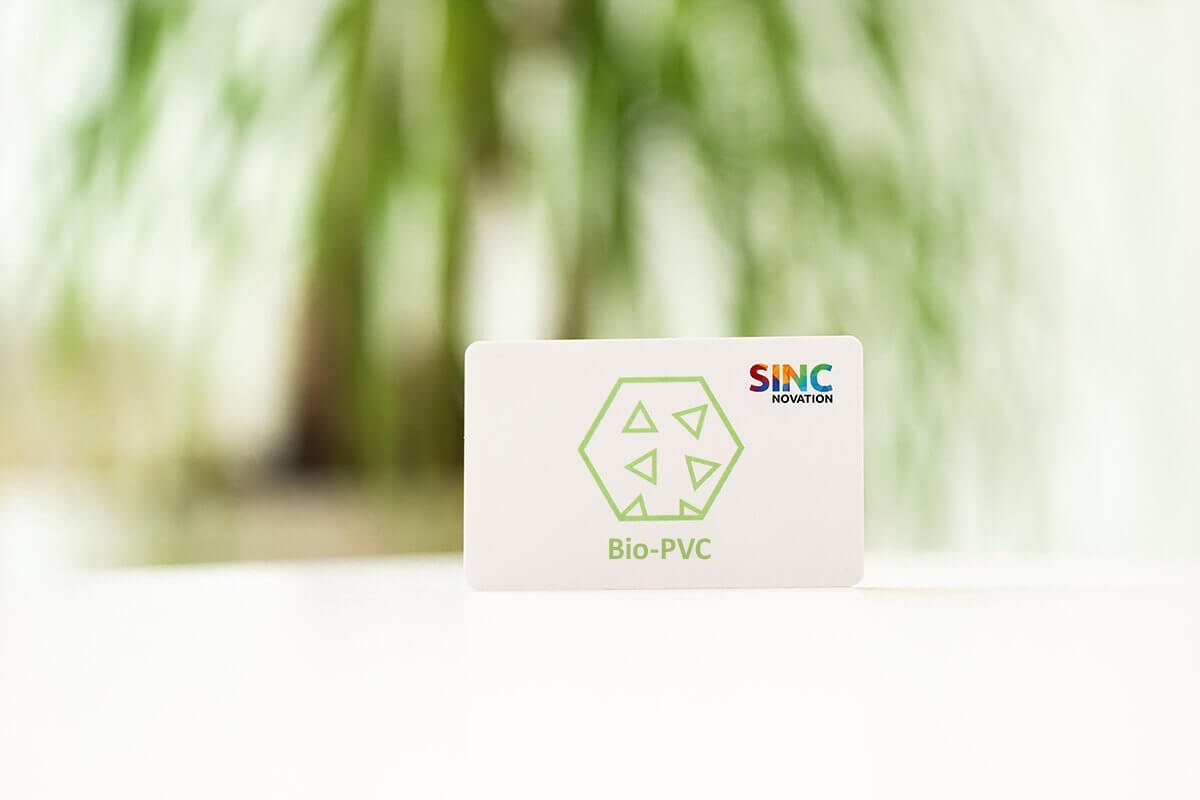 Cards made from bio-PVC
Bio-PVC is an environmentally friendly material for your cards.
More
While bio-PVC, like PVC, is made from crude oil and rock salt, it has substances added during the manufacturing process to make the material 100% biodegradable. Bio-PVC cards are just as durable as plastic cards and can be combined with any printing and finishing techniques.
All common printing and finishing techniques
Can be personalised
Recyclable
Biodegradable
Cardboard cards
Our environmentally friendly cardboard cards are a visually attractive, more cost-effective alternative to plastic cards and ideally suited for single-use applications such as promotional or event cards. We offer cardboard cards made from cellulose, sugar cane or a grass fibre/cellulose mixture.
Can be printed in offset or screen print
Can be personalised
100% recyclable
Biodegradable and compostable